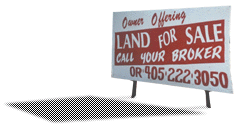 You may contact us at:
Ace Investments, Inc.
LaForge Properties LLC
2808 South 4th Street
Chickasha, OK 73018
Ofc: (405) 222-3050
Fax: (405) 222-1793
Email: property4@laforgeproperties.com


Ace Investments, Inc. and LaForge Properties LLC are both privately owned real estate investment companies located in Chickasha, Oklahoma. Properties are located in Oklahoma, Florida and Texas. Properties are both improved and unimproved.

Most properties can be divided for sale into smaller parcels. This may not be practical for the improved properties.

Additional information is available on each of the properties listed. Feel free to contact Ace Investments or LaForge Properties to answer any questions you may have.